"Yes, Power Corrupts, But Power Also Reveals."
A very timely headline to an article I read on LinkedIn two days before conducting a workshop for Lebanese journalists on the very topic of corruption.
In the piece, Wharton professor and author Adam Grant focused on Frank Lloyd Wright who he said was often touted as the greatest architect in American history, but who is also remembered as a man corrupted by power.
Grant quoted Robert Green Ingersoll's reflection on the legacy of Abraham Lincoln who said that nothing discloses real character like the use of power.
Tragically, journalists in Lebanon have been abusing their power (and responsibility) by colluding with politicians against public opinion, Lebanese TV talk show host Paula Yacoubian told the Saudi newspaper Al Sharq.
he outspoken Yacoubian said she had received death threats because of the bold topics she regularly raises on her show, "Interviews," on Future TV.
But the media can also show character by partnering with NGOs in the fight against corruption, experts told journalists at the Beirut workshop.
"Media have played a key role in uncovering Arab leaders' corruption," according to Azmi Shuaibi, the Arab Anti-Corruption and Integrity Network's Non-Governmental Group coordinator.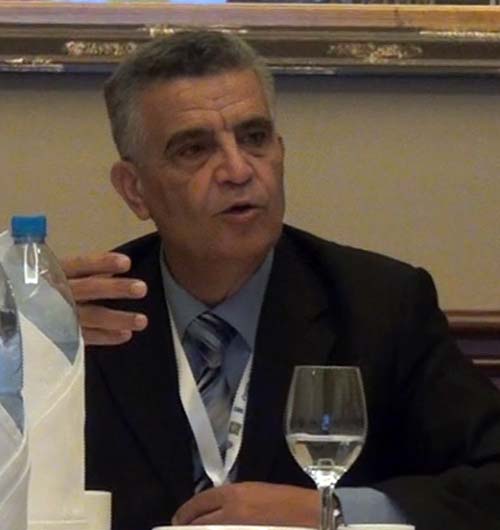 Azmi Shuaibi explains partnership between NGOs and media (Abu-Fadil)
He said citizens' rights and access to information had become more prominent in the post-Arab Spring environment, adding that the media revolution had rendered censorship in Middle Eastern and North African countries useless.
Shuaibi's comments to journalists from print, broadcast and online media were part of a larger event, a pan-Arab conference organized by the United Nations Development Program (UNDP), ACIAC and the Lebanese Justice Ministry.
The April workshop also featured academic Khalil Gebara who wondered rhetorically if there was a political will in Lebanon to fight corruption.
"Why aren't corruption issues on the list of government priorities?" he asked.
The obvious answer, journalists say, is because Lebanese politicians are too busy trying to slice the economic pie to satisfy their greed and too resistant to attempts to uncover their misdeeds.
I, in turn, walked the participants through the definitions of corruption, namely bribery, nepotism, favoritism, "wasta" (influence peddling), pilfering public funds, and blackmail.
We discussed how media can, and should, play an important role as watchdogs in countries where corruption rates high on Transparency International's scale and other international barometers.
I also briefed them on international standards of investigative journalism and how media can tackle corruption in the Arab world through data-mining and data-driven reporting.
Another key and tricky component we discussed was media ethics and how it can be applied to reporting on, and uncovering, corruption.
Additionally, social media's vital role in collecting, curating and disseminating news about corruption was an important element of the training.
Trainees provided a list of recommendations, starting with their own back yard, by monitoring Lebanese media for corrupt or unprofessional practices, and by collaborating in reporting about corruption.
One journalist suggested NGOs submit a draft law to Lebanon's parliament requiring legislators, cabinet ministers and senior public officials to disclose their assets on a yearly basis.
It's a very ambitious plan that will require a gargantuan effort on journalists' part given the stakes involved, as members of parliament and ministers are not obliged to divest themselves of business interests (including shares in media companies), or to put them in blind trusts while serving in office.